B420 XP-2 CFA
The Casagrande B420 XP-2 CFA is the largest Casagrande hydraulic piling rig dedicated to CFA foundation construction, medium - large diameters
470 kNm

Rotary Head Torque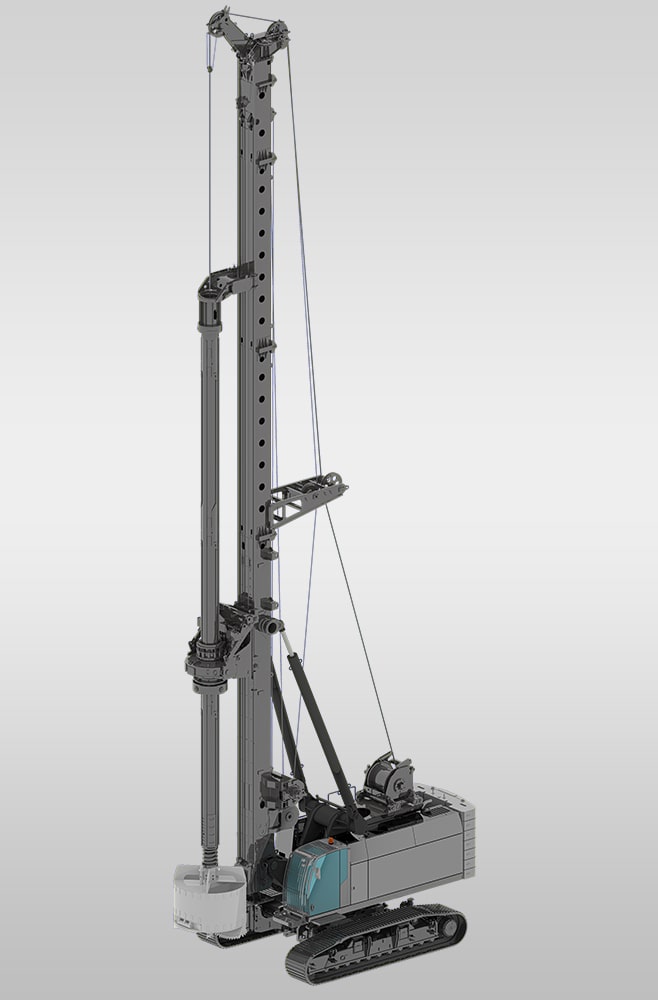 Product Catalogue
B420-Casagrande-Piling-Rig
download
Casagrande's new series of XP-2 hydraulic piling rigs are designed and built using the latest state-of the-art techniques. A range of machines engineered to satisfy the needs of the most demanding contractor with emphasis on performance, reliability and economy.
The Casagrande B420 XP-2 is a multifunction machine designed to drill boreholes, to insert and extract casings, to power a casing oscillator, for piling by the continuous flight auger method and ready for conversion in diaphragm wall equipment.
Due to the high torque of the rotary head of up to 470 kNm, the HD kelly bars and a powerful winch, the B420 XP-2 can rapidly drill deep and large piles in hard soils. The crowd winch will drive casings deep into the ground with extreme accuracy having a line pull of 690 kN and rotary head stroke of 26 m.
"Keep the operator happy in a comfortable working environment" is our formula for added productivity. The B420 XP-2 is designed to satisfy the severe European Union standards on safety and is manufactured to comply with the ISO 9001 requirements on quality.
PERFORMANCE AND PRODUCTIVITY
The Smart Power Management (SPM) is an intelligent engine power management system that improves performances and productivity of the machinery. The SPM system monitors the momentary power flows and immediately allocates the available power to the different jobs, so the operation function has always the maximum power available.
Technical Data

Max depth C.F.A.
38 m
Max diameter C.F.A.
1200 mm
Engine power
450 kW
Width of crawler
3200÷5200 mm
Shoes width
1000 mm

WINCHES

MAIN WINCH
Line pull
435 kN
AUXILIARY WINCH
Line pull
170 kN
CROWD – RAM
Extraction force
460 kN
Crowd force
460 kN
Stroke
7000 mm
CROWD – WINCH
Extraction force
690 kN
Crowd force
690 kN
Stroke
26000 mm

ROTARY HEAD

Torque
470 kNm
Drilling speed
50 rpm

WEIGHT

Weight in working condition
138 t
Standard Equipment
SPM control system – Smart Power Management
12″ touch screen display for visualization and drilling parameter settings
Mast lifting and lowering aid
Drilling depth measurement and automatic mast verticality control
Automatic idling mode with engine start/stop for fuel saving
Smart lowering and overload protection for main winch
Rotary shaking system for tool discharge
Crowd force control for pull down winch and crowd ram
CFA feed control
Hook on auxiliary line
Protective roof guard (FOPS compliant)
Air condition system
Cab side catwalk
Electric refueling pump
Undercarriage with removable tracks and 4 lifting cylinders
BASIC MACHINE
Lateral catwalks and handrails
Railings on upper structure
Water pre-heating system for starting engine at low temperatures
Automatic centralized greasing system
Radio remote control for rigging/derigging
Video unit with two cameras and one 7″ monitor to control winches and the rear of the machine
Camera for panoramic view of the area around the machine
Automatic self alignment on drilling axis
Casagrande FleetMaster remote rig control and monitoring via internet
Transport kit according to required transport configuration
ROTARY PILING EQUIPMENT
Rotary head extension to increase the drilling diameter
Mast extension for extended version
Cardanic joint for rotary head
H50 hydraulic torque multiplier for driving casings
Max. torque 575 kNm
Double rotary head system VdW3015
Main controlled winch 375 kN nominal line pull
Main controlled winch 500 kN nominal line pull
Main free fall winch 315 kN nominal line pull
Load cell on auxiliary winch for line pull monitoring
Pull control and overload protection for pull-down winch
Arrangement for casing oscillator
Casing oscillator GCL 1500 / 2000
CFA EQUIPMENT
Measurement and visualization of extraction force
Rotating CFA cleaner hydraulically operated
Star CFA cleaner
CFA lower guide with hydraulic opening
Crowd winches for CFA. Max nominal crowd force 2×68 kN
Hydraulic vibrator for cages
CFA feed control
Instrument for measuring, displaying and recording of drilling parameters. Complete with software for processing data on a PC
Instrumentation for continuous extraction of CFA